Discografia.
(clicca sui titoli degli album per vedere i testi delle canzoni)
Per comodità di consultazione abbiamo suddiviso la vastissima e singolarissima
produzione di Tom in:
< album >
< antologie >
< singoli >
< contributi >
< promo >
< compilation >
< tributi e opere >


Presentazione di Orphans

Tom Waits, il grande artista e cantautore Americano, uscirà con un set di 3 CD dal titolo "Orphans: Brawlers, Bawlers and Bastards" Venerdì 17 Novembre. Un'ampia raccolta di 54 canzoni, di cui ben 30 nuove incisioni, per un totale di più di 3 ore di musica rara o mai ascoltata prima d'ora. Insieme al set, un libretto di 94 pagine.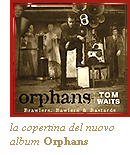 Ciascuno dei 3 CD comprende separati gruppi di canzoni e porta un sottotitolo - "Brawlers", "Bawlers" e "Bastards", appunto -, in maniera da catturare l'intera gamma degli stili vagabondi e sempre diversi di Tom Waits. "Brawlers" è pieno di blues rauchi e di canzoni che fanno pensare ai juke box dei piccoli locali americani; "Bawlers" include musica celtica e ballate country, walzer, ninne-nanne, pianoforti e i classici pezzi lirici di Tom Waits; "Bastards", infine, consta principalmente di musica sperimentale e strani racconti.

Oltre ai nuovi brani, su "Orphans" ci sono un buon numero di canzoni originariamente registrate per il cinema, per il teatro e per altri progetti, e che finalmente trovano posto su un album di Waits per la prima volta, come le originali interpretazioni di canzoni di talenti straordinariamente differenti come i Ramones, Daniel Johnston, Kurt Weill & Bertolt Brecht, Leadbelly e Jack Kerouac.

"Orphans é fatto di canzoni dure e tenere. Rumbe e sirene, tarantelle sugli insetti, madrigali sull'annegamento", dice Waits. "Canzoni orfane impaurite e dirette, che parlano di estasi e di malinconia. Canzoni che sono cresciute in modo difficile. Canzoni di origini dubbie ritrovate dal destino crudele ed ora lasciate sole a desiderare qualcuno che si prenda cura di loro. Fate vedere che non avete paura e portatele a casa. Non mordono, hanno solo bisogno di attenzione".

Tom Waits e Kathleen Brennan, sua moglie e collaboratrice di vecchia data, hanno prodotto di nuovo insieme "Orphans", primo lavoro dopo il successo di "Real Gone" nel 2004. Waits e la Brennan si sono recentemente piazzati al quarto posto nella classifica dei "100 migliori cantautori viventi" stilata dalla rivista America's Paste. "Nella letteratura ci sono solo una manciata di scrittori che hanno parlato del quasi-impossibile. Nella musica, questo accade su qualsiasi lavoro di Tom Waits", dice la rivista.
BRAWLERS

01. Lie To Me
02. LowDown
03. 2:19
04. Fish In The Jailhouse
05. Bottom Of The World
06. Lucinda
07. Ain't Goin' Down To The Well
08. Lord I've Been Changed
09. Puttin' On The Dog
10. Road To Peace
11. All The Time
12. The Return Of Jackie and Judy
13. Walk Away
14. Sea Of Love
15. Buzz Fledderjohn
16. Rains On Me


MUSICIANS

Anges Amar - Whistles
Bobby Baloo - Boulders, Cowbells
Seth Ford-Young - Bass
Joe Gore - Guitar
Charlie Musselwhite - Harmonica
Marc Ribot - Guitar
Larry Taylor - Bass
Casey Waits - Drums
Tom Waits - Vocal, Guitar, Keyboard, Percussion, etc.
Dave Alvin - Guitar
Andrew Borger - Percussion
Brain - Percussion
Ralph Carney - Sax
Les Claypool - Bass
Steve Foreman - Percussion
Brett Gurewitz - Guitar
Ron Hacker - Guitar
John Hammond - Harmonica
Stephen Hodges - Percussion
Gino Robair - Percussion
Jeff Sloan - Percussion
BAWLERS

01. Bend Down The Branches
02. You Can Never Hold Back Spring
03. Long Way Home
04. Widow's Grove
05. Little Drop Of Poison
06. Shiny Things
07. World Keeps Turning
08. Tell It To Me
09. Never Let Go
10. Fannin Street
11. Little Man
12. It's Over
13. If I Have To Go
14. Goodnight Irene
15. The Fall Of Troy
16. Take Care Of All My Children
17. Down There By The Train
18. Danny Says
19. Jayne's Blue Wish
20. Young At Heart


MUSICIANS

Bobby Black - Steel Guitar
Seth Ford-Young - Bass
Joe Gore - Guitar
Carla Kihlstedt - Violin
Nic Phelps - Horns
Larry Taylor – Bass
Ray Armando - Percussion
Andrew Borger - Percussion
Matt Brubeck - Bass
Dan Cantrell - Accordion
Ralph Carney - Saxes
Bent Clausen - Banjo
Jimmy Cleveland - Trombone
Harry Cody - Banjo
Greg Cohen - Bass
Chris Grady - Trumpet
Brett Gurewitz - Guitar
Billy Higgins - Drums
Art Hillery - Piano
Trevor Horn – Bass
Adam Lane - Bass
Charlie Musselwhite - Harmonica
Eric Perney - Bass
Dan Plonsey - Clarinet
Steve Prutsman - Piano
Bebe Risenfors - Clarinet
Gino Robair - Percussion
Mike Silverman - Bass
Nolan Smith - Trumpet
Matthew Sperry - Bass
Francis Thumm - Piano
Leroy Vinnegar - Bass
Sullivan Waits - Guitar
Tom Yoder – Trombone
BASTARDS

01. What Keeps Mankind Alive
02. Children's Story
03. Heigh Ho
04. Army Ants
05. Books Of Moses
06. Bone Chain
07. Two Sisters
08. First Kiss
09. Dog Door
10. Redrum
11. Nirvana
12. Home I'll Never Be
13. Poor Little Lamb
14. Altar Boy
15. The Pontiac
16. Spidey's Wild Ride
17. King Kong
18. On The Road
MUSICIANS

Ara Anderson - Trumpet
Michael Blair - Drums, Percussion
Brain - Percussion
Matt Brubeck - Bass
Crispin Cioe - Sax
Bent Clausen - Piano
Greg Cohen - Bass
Eddie Davis - Banjo
Darrel Devore – Circular Violin
Mitchell Froom - Chamberlain
Bob Funk - Trombone
Arno Hecht - Saxes
Bart Hopkins - Bamboo Clarinet
Carla Kihlstedt - Violin
Guy Klesevik – Accordion
Gary Knowlton - Keyboards
Mike Knowlton - Guitar
Larry LaLonde - Guitar
Mark Linkous - Guitar, Drums, Bass
Paul "Hollywood" Litteral - Trumpet
Charlie Musselwhite - Harmonica
Tom Nunn - The Bug
Marc Ribot - Guitar
Bebe Riesnfors - Clarinet
Colin Stetson - Sax
Larry Taylor - Bass
Richard Waters - Waterphone
Casey Waits - Drums
Tom Waits - Vocals, Percussion, Pump Organ
La nostra recensione di Orphans


…l'ultima fatica del nostro amato Tom é semplicemente quello che stavamo aspettando... quello che abbiamo sempre aspettato... Orphans, per usare le stesse parole che Waits ha usato, é stato come vuotarsi le tasche sul tavolo dopo una notte di gioco, furti e "cow tipping"... uno show alla radio in cui il passato è in sequenza col futuro, fatto di cose che trovi per strada. "

Orphans contiene canzoni per tutte le occasioni...
"each disc is its own world and captures Waits in his full spectrum, from country ballads to strange tales and full throated juke joint stomp"... e su questa linea Tom continua nelle sue storie assurde, surreali, ironiche che noi tanto amiamo... su come una canzone è nata, dove e quando... e perché... e ovviamente lascio a voi il piacere di leggerlo quando sarà il momento.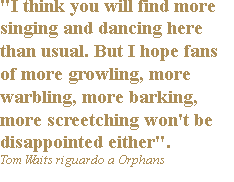 A questo proposito, dopo aver ascoltato questo triplo CD set, mi sono trovato in una situazione alquanto difficile per quello che riguarda la relativa recensione, perché se da un lato avrei voluto tanto sommergervi come un fiume in piena, un fiume di parole, nero su bianco per raccontarvi tutto ciò che di incredibile, meraviglioso e sorprendente ho trovato nelle oltre tre ore di ascolto, d'altra parte ho pensato che non sarebbe stato giusto.



Tutti voi state aspettando questo momento da tempo, e avete tutto il diritto di provare la stessa gioia, la stessa sorpresa, lo stesso godimento che io ho provato al primo ascolto, e quindi così come le mie orecchie sono arrivate "vergini" a questo appuntamento, non preoccupatevi, anche le vostre resteranno intonse, senza anticipazioni troppo particolareggiate che possano anche solo rischiare di rendere meno unico il momento in cui accoglierete tra le braccia gli orfanelli di casa Waits.
E allora cosa posso raccontarvi?

Beh, mettiamola così, la setlist dei 3 CD già é stata pubblicata, quindi io mi limiterò a darvi qualche anticipazione e/o conferma su quello che un po' tutti bene ho male mi hanno chiesto in questo periodo.
Dunque, cominciamo con qualche numero.
Più di 3 ore di musica.
56 canzoni.
30 nuove registrazioni.

E su questo vado a specificare.
La lista di canzoni comprende:
- quasi tutti i pezzi (mancano ad esempio i 2 pezzi da Paradise Alley, 1978) che Tom ha disseminato nelle varie colonne sonore cui ha partecipato con canzoni originali, da "Dead Man Walking" (con "Fall of Troy" e "Walk Away"), all'ultimo di Benigni, alle due splendide canzoni presenti in "Big Bad Love" ("Long way home" e "Jayne's Blue Wish"), finalmente anche "Take care of all my children" tratto dal documentario di inizio anni 80 "Streetwise", e tanti tanti altri ancora.
Sorprendentemente è presente anche "Sea of love", tratta dall'omonimo film (in italiano "Seduzione pericolosa", con Al Pacino e Ellen Barkin), e la sorpresa è che la canzone non è sua, però se riuscite ad ascoltare la canzone originale allora riuscirete a capire perché l'ha inserita in questa raccolta... praticamente l'arrangiamento di Tom stravolge a tal punto la canzone da renderla davvero un nuovo pezzo, nessuno riuscirebbe a riconoscere che si tratta di una cover dell'originale.
E sulle colonne sonore, a fatica e a malincuore, mi fermo qui, il resto lo scoprirete voi.

- quasi tutte le canzoni che ha scritto per altri artisti e che prima non aveva mai eseguito in prima persona (anzi, pensandoci bene sicuramente una no.. non l'ha inclusa.. sapete a quale mi riferisco..), mentre adesso possiamo finalmente gustarci con la sua vociona pezzi che abbiamo solo immaginato cantati da lui...
Un avvertimento, qualche canzone, nella versione cantata da Tom, addirittura si ritrova anche un titolo diverso da quello con cui è stato pubblicato dall'artista a cui era stata data "in affido"... ad esempio "Tell it to me"... quando ascolterete, capirete...

- quasi tutte le collaborazioni, le partecipazioni ai tributi (manca ad esempio dal tributo a Cole Porter "It'a alright with me"), da quello a Kurt Weill, alla Disney, ai Ramones.. e su queste non mi dilungo, la maggior parte di voi già sanno di cosa stiamo parlando, per tutti gli altri, godetevi la fortuna di ascoltare altri pezzi eseguiti da Tom come solo lui sa fare...

- cosa dire a questo punto dei cosìddetti "inediti"? A mio parere, (soprattutto perché la maggior parte dei brani di cui sopra li avevo già, avendo speso negli anni passati tempo e denaro per cercare di mettere insieme tutti i vari orfanelli, e so di non essere affatto l'unico) ci troviamo davvero di fronte alla parte più interessante di questa opera. Troviamo delle chicche davvero uniche... ci sono outtakes di alcuni albums che preferisco non specificare... e qui davvero mi sto mordendo la lingua per non rovinarvi la sorpresa anche se alcuni (e solo alcuni) di questi outtakes sono apparsi in passato in qualche bootleg... c'è però un pezzo in particolare sul quale non riesco a tacere, che mai è apparso su alcun bootleg e che nessuno ha mai avuto la fortuna di ascoltare, se non quei pochi fortunati che hanno avuto la possibilità di assistere personalmente alla rappresentazione teatrale di Franks Wild Years nel 1986... si tratta di un pezzo infatti che fu eseguito solo sul palcoscenico, senza trovare posto sull'album... un pezzo che io ho sempre adorato (non fraintedete, io non c'ero a Chicago, è solo che in passato ho avuto la fortuna di entrare in possesso di una registrazione audio dello spettacolo), e che persino conoscevo con un altro titolo semplicemente perché un titolo ufficiale non ce l'ha mai avuto, fino appunto alla pubblicazione di Orphans... anche in questo caso non voglio dirvi troppo... vi dico solo che io ero convinto si intitolasse "Will you remember"... e invece immaginate quale sorpresa, e soprattutto quale gioia mi ha pervaso quando ho ascoltato quello che ritenevo un pezzo a me sconosciuto... poi, anche su questo mi direte...

Insomma, spero di avervi raccontato tanto, ma non troppo... il giusto... e so comunque perfettamente che non avevate certo bisogno che io vi allettassi per l'acquisto, più di quanto non lo siate già.

Voglio concludere dicendovi che per la prima volta Tom si rivolge ai suoi fans in relazione al contenuto del suo lavoro... queste sono le sue parole, le riporto virgolettate: "I think you will find more singing and dancing here than usual. But I hope fans of more growling, more warbling, more barking, more screetching won't be disappointed either".